Ski and snowboard school for adults
Are you a beginner and afraid of the first ride? No fear. You don't have to be a racer. Just your desire to enjoy riding.
Do you already ski? How about improving a curved turn or learning a short cut turn? Or it's time to try a snowboard.
In any case, you will go one step further with us. We will teach you to ride with confidence and in any terrain. We will remove bad habits and improve technology.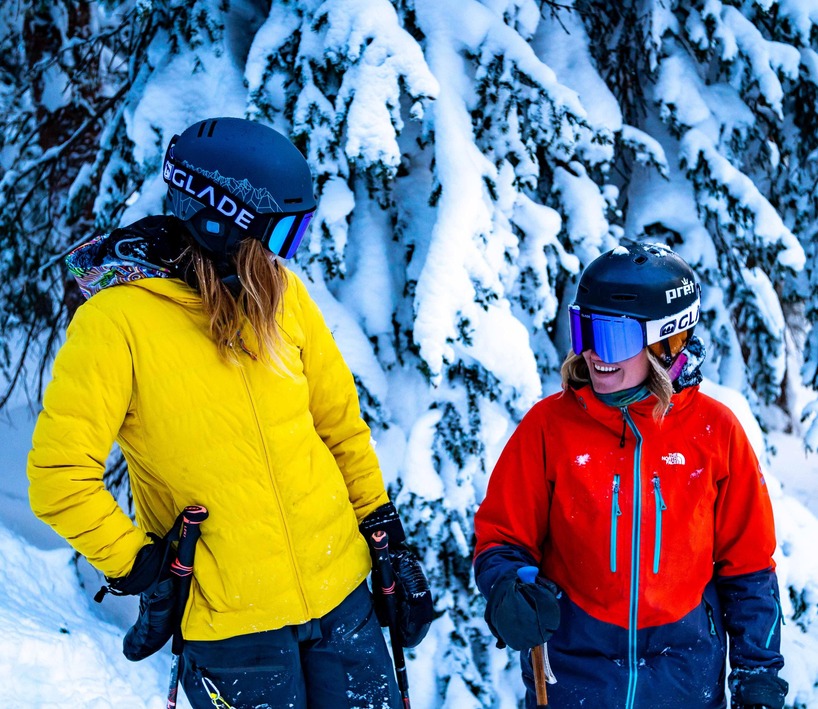 We teach right on the slopes
The best price of courses
More information about courses for adults
COURSE CATEGORIES
For beginners and intermediates
Skiing and snowboarding courses
Private and group lessons
WHAT LANGUAGE WE TEACH
English
German
Czech
Polish
Russian
Pizza and spaghetti
SCOPE AND COMPOSITION OF THE LESSON
The lesson lasts 50 minutes
We recommend 2 hours for the introductory lesson
For advanced 2 + 2 hours / day
Our tips – private lessons for 1-2 people
TEACHING LOCATIONS
Ski resorts Medvědín and Svatý Petr
Training slope for beginners
Blue ski slope for advanced
WHERE DO WE MEET
In our rental shop at Špindlerův Mlýn 168, 543 51
Upon agreement directly in the ski area
BENEFITS OF LESSON WITH INSTRUCTOR
Safety
Tailor-made teaching concept
Rapid progress
Priority entry for instructors – cable car ride without waiting
Description of lessons for adults
Lesson 1 (2 hours / practice slope)
Easy control of the skis on the level
Basic position, go uphill, straight down and in the plow
Plow turn, brake, stop
With average fitness, you can do this on the training hill in the first two-hour lesson.
Lesson 2 (2 hours / blue slope)
Descend the blue slope in plow turn
Get a feel for the terrain
Speed control, a sense of security
Gradual training up to the carved turn.
"You can plow and stop. You may not be sure of every turn, so let's take a look at this together. We will carefully test your technique and your skills and make further progress together. "
Lesson 1 (2 hours / blue slope)
Improvement of the plow arches
Eliminate mistakes and acquire the right habits.
Formation of the headland and gradual transition to the carving curve.
Lesson 2 – (2 hours / red slope)
And the great fun begins. You already master the ride so well that the instructor will take you to the red piste, where you will safely practice the carving curve at (slightly) higher speed so that you gradually discover its magic.
The two tracks behind you and the feeling of a cut out curve will simply devour you and since then you have wanted to cut more, get yourself into the curve and preferably never stop.
You feel safe skiing, you usually ski on red or even black slopes, you don't drive a plow and you have mastered carving curves.
Eliminate mistakes and refine the technique of carving turn
Enjoy driving even at higher speeds
Master the carving arc in difficult terrain
In this lesson you will experience several "wow moments" in which, thanks to carefully selected exercises, you will experience exactly the driving experience you want.
You learn to perceive and work with the contact between body, equipment and snow. Simple – you are a great skier – you and we know it and others see it!
Fantastic!
Great snowboarding school! The SnowMonkey team is a great group of people to help you. They love the job. They do everything to make sure everyone enjoys the lessons.
I highly recommend anyone heading to Špindlerův Mlýn to look at the boy on SnowMonkey. I can't wait to come back!
Price list of the most frequently booked lessons
1 – Send us an inquiry
Write us your wishes in the form and secure the price online with a 10% discount.
2 – We will replay within 24 hrs.
If you need a faster information, you should call us directly on +420 776 184 827.
3 – Ready for you
The ordered services will be ready before your arrival. Details can be fine-tuned on site.
Why sharpen skiing or snowboarding with SnowMonkey?
We teach simply, practically and directly on the piste.
16 years of experience teaching clients of all ages.
We have a lot of aces up our sleeves and sweets in our pockets.
We always find a way to meet your goals and wishes.
We are not only instructors, but also your guides.
Tips and recommendations
For families
Maybe you are all beginners and want to enjoy the lesson as a family. But if you have small children, we recommend your own instructor and enjoy skiing together until the end of your stay, when you will all have experience and confidence.
For beginners
We recommend a multi-day course = 2 or 3 days / 4 hours a day. During this time, you will move to a slightly advanced level. You can then arrange to continue with your instructor
For advanced
Congratulations! But there is always room for improvement. We recommend a 2-hour lesson with an instructor. We can record your lesson, analyze your ride and agree on the next steps.